MPC 1000 Blues
I've owned a few MPC1000's but I always ended up selling them because I found their defects extremely hard to work with.  As covered in my MPC 1000 review  these defects range from faulty pads, sensors, and tactile switches.
Instead of going through the hassle of buying a 1st revision MPC 1000 and then upgrading the pads and sensors, I just made sure I found a 2nd revision MPC 1000.  If you ever want to make sure you are getting the 2nd revision with the good sensors, all you have to do is wiggle one of the pads and if any of the other pads move at all, then you can rest assured that the newer sensors are installed.
There are a couple of options out there to fix the responsiveness of the 2nd generation MPC 1000 pads.  The more expensive solution is an entire new sheet of pads and the cheapest is an adhesive piece of pastic or cork that you stick in between the pads and the sensors to close the problematic gap. Two companies, http://www.mpcstuff.com and http://www.vstservice.com, are the only ones that offer these products, but I found most of them to be overpriced for what they do, which is only to close a tiny gap between the sensor and the pads.  Instead, what I did was cut 4 small pieces of electrical tape and stick them directly onto the bottom of the pads. So far it has made a HUGE difference and the pads work great.  I think it might have worked even better with 5 pieces, but it still is a great improvement.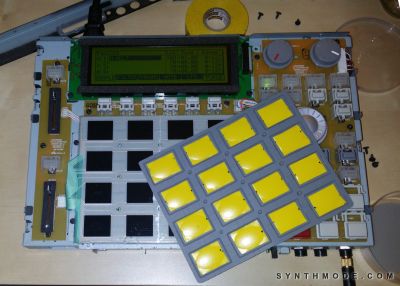 Another more challenging upgrade I did was to replace all 30+ tactile switches, each having 4 solder points, totaling over 120 solder points... ouch.  This would have been even more painful if I had ordered the switches from MPCStuff for $8 a piece.  You can find the same switch from Mouser.com for a few cents!!  here is the specific information for the part:
Mouser Part No:     
688-SKHHAL
Manufacturer Part No:     
SKHHALA010
Manufacturer:     
ALPS
Description:     Tactile Switches 6.0x6.0x4.3mm 160gf
I used a disordering iron and instructions from the tutorial below.  Also, some disordering wick will help in case you are having trouble removing small bits of solder from where the switch pins used to be.
Finally the MPC 1000 is working as it should have been the time it left the factory.  All trouble aside, I highly recommend an MPC 1000 with JJOS2XL for anyone that likes working with samples and finds limitations good for inspiring creativity.
tags:
gear