You are here
Kilpatrick Audio PHENOL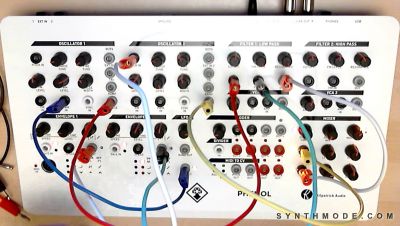 Obtained:
Saturday, August 15, 2015
The Kilpatrick Audio PHENOL is the 2nd semi-modular synthesizer I've owned (the first being the Korg MS-20), and it is also the closest thing to a modular.  Soon after getting my hands on it I started realizing what the modular fuzz was really all about.
The PHENOL packs a lot of modular features in a small package.  This includes a very simple but useful divider and powerful multi-mode envelopes--all things that are not very common outside the modular world.
Everything else on the synth is pretty straight forward.  The first thing that took some head-scratching was the multi-mode envelopes because they really are jam-packed with features. This is in fact both a strength and weakness because it can be somewhat confusing to know which mode is doing what (i.e. scales, slides, etc.)  The envelopes, however, once you get used to them can be incredible tools for experimentation.
The last thing I experimented with was the divider, which is basically just a very basic rhythm generator based on the rate of an LFO you feed into it.  This, in combination with the envelopes opens up a whole lot of experimentation and interesting results.  Needless to say I was making some exceptional noises within minutes of plugging the PHENOL in, even without the divider being put to use (see video below).
The oscillators have a warm solid sound that can sometimes be aggressive.  The filters are buttery but fat and very musical.  Once you combine the two you'll find very versatile sound-shaping capabilities.  A great bonus is the simple delay.  In fact, I'm reluctant to even call it a bonus, as its sonic characteristics are very unique.  This is by no means a high quality delay unit--it is mostly cheap and dirty, but it sounds amazing.  This delay introduces artifacts reminiscent of vintage/cheap delay units such as noisy bit-crushing and aliasing feedback.
The banana plugs are great to patch and Kilpatrick does offer his entire line of modular gear in this format in case you want to incorporate the PHENOL to your future modulars, however, most modules out there are not.  Having to find adapters if you decide to dive into the modular world will just be an additional task--and you will likely want to after you mess with this modular gateway beast.
tags:
gear