EURORACK!! The new trend is here and all the cool kids are doing it! Well, nope, nope, it's not new, and hardly any kids are doing it, mostly middle-aged nerds that can afford.

Growing up in a computerized world with access to tons of free and mind-blowingly powerful open source plugins has been revolutionary and life-changing, but many people also feel that it has cursed them with overwhelmingly monotonous computer interactions.

Eurorack is a great way to tap into the raw elements of synthesis to fully harness its power with a refreshing hands-on approach.  The main challenges associated with going eurorack are its overwhelming complexity compared to conventional synths and the sometimes ridiculously high prices.

If you are indeed attempting to enter the world of Eurorack here is a quick guide (based on my experience) on how to win:

 
Gear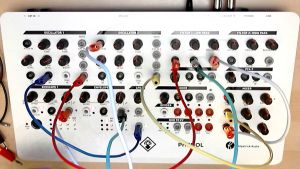 The Kilpatrick Audio PHENOL is the 2nd semi-modular synthesizer I've owned (the first being the Korg MS-20), and it is also the closest thing to a modular.  Soon after getting my hands on it I started realizing what the modular fuzz was really all about.
The PHENOL packs a lot of modular features in a small package.  This includes a very simple but useful divider and powerful multi-mode envelopes--all things that are not very common outside the modular world.
Everything else on... more